Art glass trophy is an artistically inspired recognition trophy. It is mainly made of glass and accented with some crystal, acrylic, marble, or ebony wood materials. Art glass trophies include diverse types, such as fascinating mouth-blown glass design, hand-blown glass design, etched glass design, etc. Art glass awards are mesmerizing because glass is a medium that captures light and color unlike any other. That's to say, it easily grabs the audience's attention.
Awards and trophies have been always considered as an effective marketing/advertising way for corporates or organizations. To differentiate from the competition and to position differently, it's essential to find really innovative award solutions without spending a lot of money. Art glass trophy is often customized based on the image of the companies and often come with diverse personalized designs, like transparent, clear, gradient, etched, embedment, etc. All art glass trophies are also able to be engraved with the recipient's name and with a personal message, which adds special touches to elevate the meaning of the trophies.
Application Range of Art Glass Trophy
A classic symbol of excellence, the esteemed art glass trophy is an outstanding way to recognize an achievement or commemorate an occasion. This is a very popular selection for Chairman's trophies, sales trophies, donor recognition, commemorative trophies, and leadership trophies. Art glass trophies serve not only as a communication tool but also as an effective advertising channel for corporates. Art glass trophy is perfect for great events, such as school prize-giving, a company recognition award, a sporting trophy or a special celebration. It can be entirely customized to cater to the image of the company, no matter in shapes, sizes, or design.
An art glass personalized trophy is often given as a gift. Nowadays, many award manufacturers adopt a 3D engraving technique to engrave logos, images to create a memorable high-quality gift. 3D engraving allows for greater artistic expression and creative ideas. Whether it is artisanal or factory-made, the trophies are made to measure to correspond 100% to your company values.
It is an item that carries a really positive message. Art glass trophy can take a logo or slogan to spread your message. It can be kept over time will serve as a permanent reminder of your company over the long term. Don't hesitate to work with the award and trophy manufacturers to customize your unique company's art glass trophies. They can ensure your values and message are shared through the exceptional trophy items.
Art Glass Trophy Precautions
1. Custom art glass trophy charges additional fee.
2. Dimension, color, or shape is customized.
3. The hand-blown trophy is not exactly alike with each other.
4. Rush service of 1-3 business days production is available.
5. Free engraving.
6. Air bubbles & minor color variations are common.
7. Each piece of art glass is made by hand.
8. Each art glass trophy is packaged in an elegant presentation gift box that is passed with protection cushion.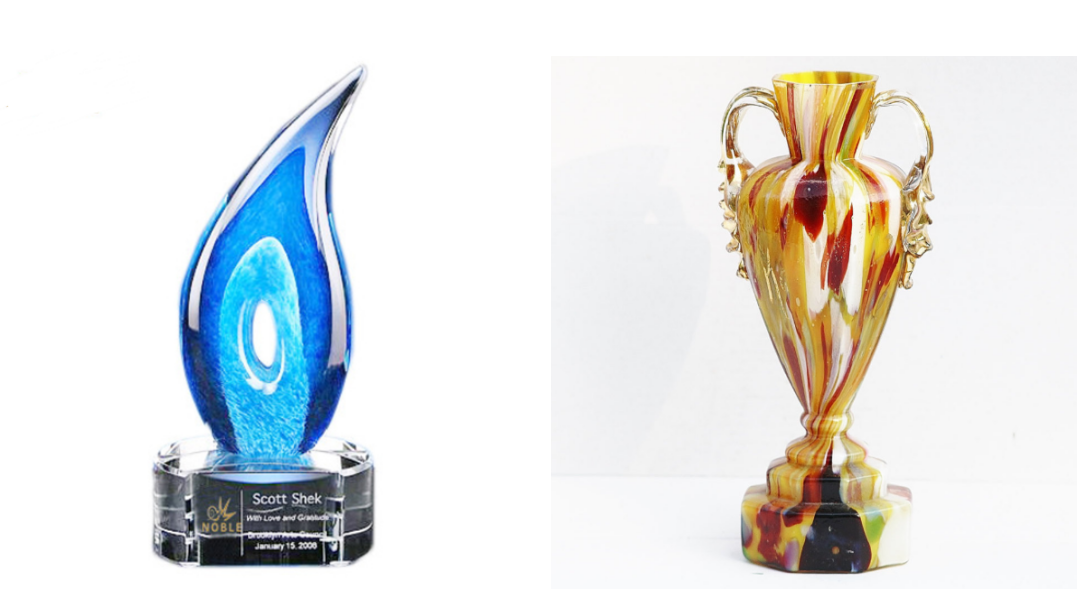 Parameters of Art Glass Trophy
1. Size: OEM
2. Material: Liu Li (colored glaze)
3. Color: a brilliant color combination of sapphire, peridot, and amber (custom)
4. Technique: Polished
5. Trophy Base: acrylic, resin, glass, wood (custom)
6. Features: lead-free; environmentally friendly
7. Weight: 500-100g
8. MOQ: 20pcs
9. Packing: Gift Box.
Noble Awards - Your Best Trophy Manufacturing Partner
We, Noble Awards Co., Ltd., are a well-established manufacturer that has engaged in research, development, and production of various awards trophies, medals, and plaques for many years.
We has achieved a good name in the markets for our premium art glass trophy. Most of our art glass trophies have passed quality testing qualifications. Relying on cutting edge manufacturing technologies and experienced talents, we are able to offer every client graphic design of art glass trophies.
In addition, free pattern engraving, professional color printing, 3D laser process, hard or soft enamel painting services of custom medals are available.
We are a trustworthy and reliable company that is widely recognized by clients from the USA, the Middle East, Japan, South America, etc.