The custom acrylic trophies or awards are popular in corporate circles for a good reason. It's common to see an acrylic award displayed in the offices of thought leaders and honored employees. It is considered as one of the most universal trophies today. Awards are given to appreciate people who have put forth effort in their work or study. Apart from this, an award can encourage people to work harder in the future. There are several types of awards that are frequently provided to honor employees, yet the acrylic awards are considered to be the best among them. In spite of other options, there are various reasons which can be stated for why the acrylic award is being used extensively.
For those clients looking for a more contemporary award product, acrylic award is just what they are searching for. Acrylic awards are a great alternative to add a touch of distinctiveness. Acrylic offers advantages that are not present with other types of awards and the benefits are mentioned below.
What Makes Acrylic Awards So Special?
1.Eye-catching
Obviously, an award should be eye-grabbing enough so that the receivers and audience can feel the elegance of the award to a greater extent. In terms of aesthetics, the acrylic award wins. It embraces the transparent beauty of both glass and crystal. As they are crystal clear and tend to appear a unique and attractive look, they can definitely draw people's attention. People who receive the acrylic awards and trophies will have greater satisfaction and momentum for the effort initiated in their careers. Many companies have sought for custom acrylic trophies and put them on the display case in the workplace.
2.Durable
Since acrylic refers to the material that is not prone to the damages. Acrylic award is the ideal option compared to that of other awards like crystal and glass. Acrylic is much more durable than glass and crystal. Additionally, acrylic can withstand impacts and collisions. It is also resistant to many exterior elements, including sunlight, rain, snow, pollutants and many chemicals.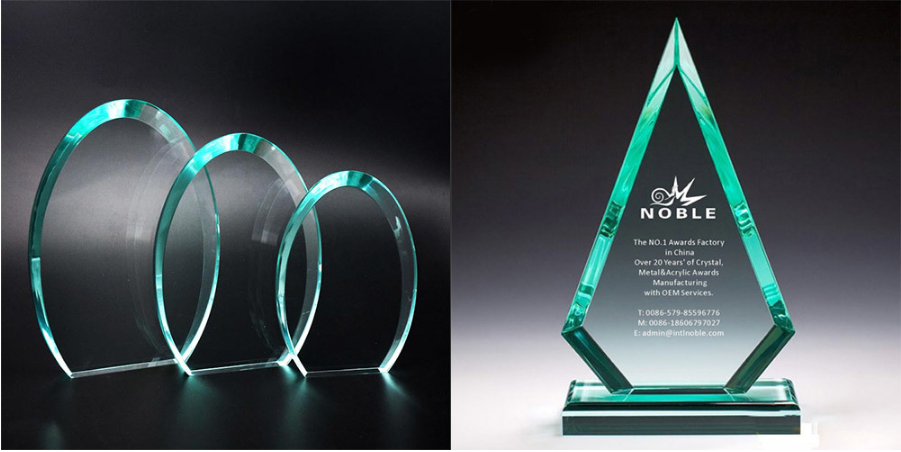 3.Matching Decorative
Acrylic awards work perfectly with any décor. Like any other trophy, the acrylic trophy is usually displayed for decoration or show. When someone is awarded any one of the trophies, it's not likely that he or she would like to place it in the basement. Acrylic award can matches any home or office décor style and recipients do not have to fret about a brass cup clashing in a silver office.
4.Size controllable
Apart from fitting different décor styles and integrating unique elements, acrylic trophies are available in many sizes. You can customize your acrylic trophies with a lower profile so that you can make them easier to be displayed in a cabinet or display case. Your award recipient will not have to clear an entire shelf or redo the office just to accommodate the new award.
Why Custom Acrylic Trophies Are Preferred?
The custom acrylic trophies can be a quick and cost-effective way to create new, unique custom awards designed specifically for your organization or event. It should be noticed that the acrylic awards are highly customizable based on needs and requirements. It can be one of the most flexible award types in terms of incorporating unique shapes, sizes, colors, materials, engraving methodologies.
There are lots of types of services that are available nowadays in custom acrylic trophies. As acrylic material is very flexible and it's a thermoplastic, it can be heated and formed into many different shapes. This allows for a number of creative designs. It can be constructed into a company's logo or other representative shapes. Besides, names and patterns can be easily engraved or laser etched into the acrylic award compared to the glass and crystal one. Regarding the shapes, the acrylic awards can be the round, rectangular, square or even odd shape. Apart from traditional one with a totally blank look, today's custom acrylic trophies can be embedded with metal or non-metal items for decoration, such as a coin or medal. This workmanship will give your award a very distinct and personalized look.
Usually, the color of the acrylic award is transparent, yet the award can also be customized into a blue or green tint one. The only limit to an acrylic award is people's imagination.
Acrylic awards are still highly affordable even though it's customized with various distinctive features or personalization. There are many online sources for making and customizing these awards, both at home and abroad, and you can choose a professional award manufacturer to design and produce your awards. Offering customers the option of designing a custom acrylic award is an opportunity that many retailers overlook. There are quite a number of buyers asking the retails "Can you make this design change?" If custom acrylic trophies are easily available, that would be awesome for most people.