Sometimes a traditional trophy is just what you need. Other times, you want something unique. With Noble Awards, you can choose from and customize countless affordable trophies and have them delivered right to your door. It's convenient, and your options are virtually endless.
If you plan to buy trophies online, consider these creative ideas:
Unusual materials
Colorful trophies
Photo trophies
Fun shapes
Bobblehead trophies
Clock trophies
Engraved gifts as trophies
Bring all your trophy ideas to life at the Noble Awards online.
Let's bring your ideas to life. Look around to find unique, affordable trophies now.
BUY TROPHIES ONLINE
Unusual Materials
Let's start with the basics. In the past, you could only get a custom metal trophy, like gold or silver. You still can purchase trophies made of these materials, and these premium designs are impressive and timeless.
But now you have other options, too. And they're often less expensive. You can choose from crystal trophy awards or trophies made of plastics, resins, or even wood. Plastics and resins can be made to look like metal, or not. That gives you a lot of room to be creative.
Noble Awards offers affordable trophies in all these materials.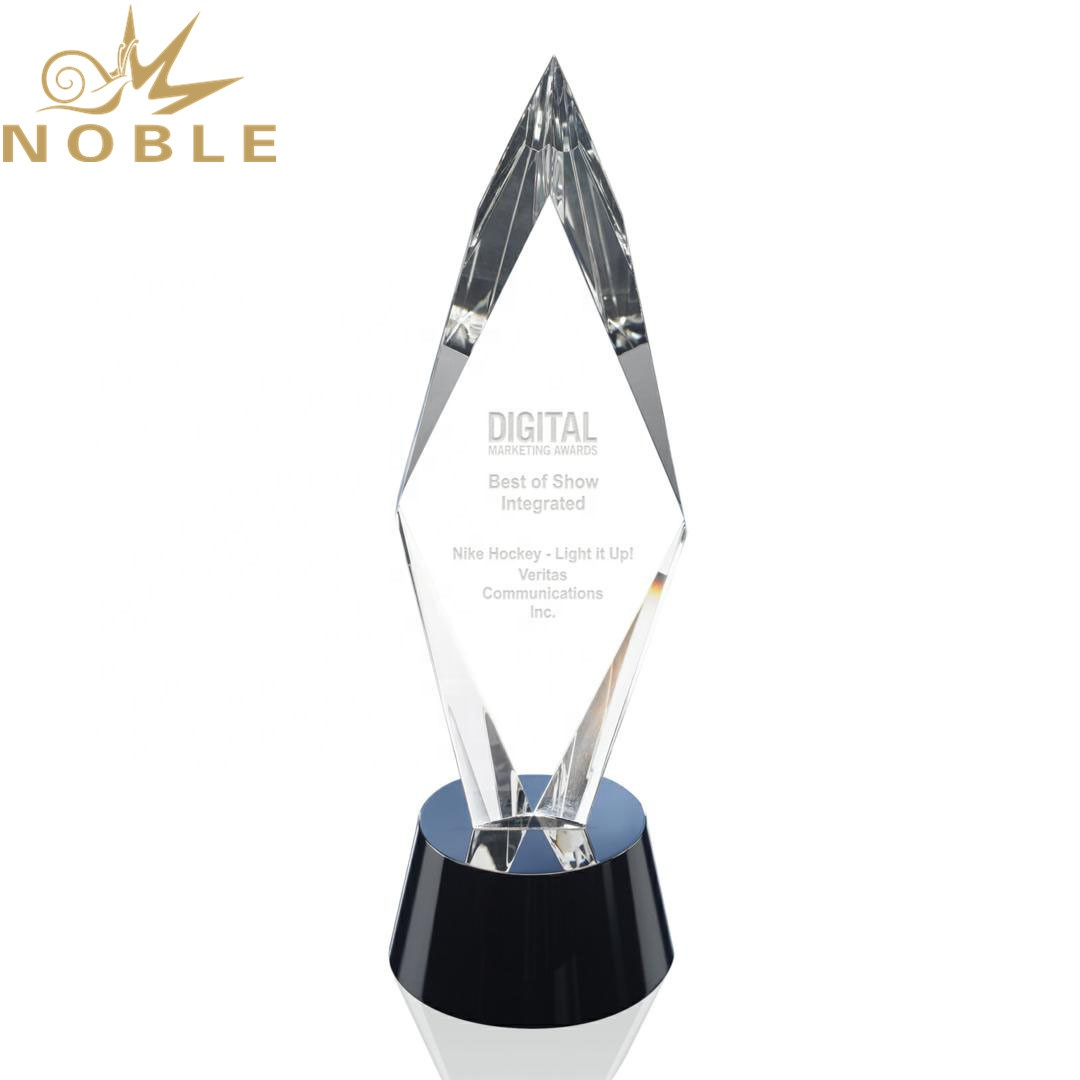 Colorful Trophies
When you're working with different materials, you suddenly have the option to use different colors, too. Full-color crystal award trophies let you add a colorful logo or design. Other trophies come with colors built into the topper. With many trophies that have columns as a base, you can choose a color or pattern for the columns.
Sometimes you can even choose an insert that brings a color or design into the topper. That's the case with many of our 1st, 2nd and 3rd place trophies.
If you like the idea of colorful trophies, consider looking for the colors of your team or organization for a personal touch.
Photo Trophies
That's right, there are even trophies that let you add a photo of the recipients, memorializing a moment in time. This makes the trophy an even more special keepsake.
Photo trophies are an especially great idea for coaches, as well as teams and groups that have achieved something together. Recipients can look back at the group photo years later, see the familiar faces and remember the good times they shared.
Fun Shapes
These days, the classic cup trophy has some stiff competition. The Noble Awards trophy shop offers hundreds of trophy shapes from sophisticated to playful.
Consider a shape related to the occasion or achievement. You'll find trophy ideas for all kinds of activities and interests, not just major sports. For example, theater trophies may be in the shape of the famous comedy and tragedy masks. Music trophies come in the shapes of musical notes, clefs and microphones. And these are just a few examples.
Bobblehead Trophies
Beyond shapes, bobblehead trophies actually feature movement. These novelty trophies can be perfect for a silly occasion — or if the recipient just loves bobbleheads. They're also especially affordable trophies, and they're pretty much guaranteed to get a laugh.
Clock Trophies
At the other end of the spectrum opposite bobbleheads, clock trophies are classy and practical. Consider a clock trophy for any recipient who dislikes clutter. They'll like that it doesn't just take up space but also serves a purpose.
Engraved Gifts as Trophies
The practical-minded will love usable, personalized gifts that can double as trophies or awards. The Noble Awards online trophy shop offers a wide variety of engravable gifts, including glassware, drinkware, cutting boards, tools and more.
The Noble Awards online trophy shop offers rings for virtually every sport, including football, soccer, cheerleading, softball, basketball, wrestling, tennis and more. You can also choose options that are not specific to any sport.
Feeling Inspired?
Let's bring your ideas to life. Look around to find unique, affordable trophies now.