Recognizing achievements, excellence and hard work with a glass award is a memorable, meaningful and lasting way to commemorate any individual. There's no doubt that you want the glass award you present them with to be special whether you are honoring a co-worker, a sales member, an employee or a boss in your organization. If you are looking for a business award that stands out among all the rest, here are five unique glass awards for you to consider.
1. Color Blocks Glass Award
A great way to make a glass award unique is to add some color! This custom glass trophy features green, yellow, blue, purple and red glass blocks staggered on the side of the clear, 3/8" thick glass panel where your company logo and personalized engraving are featured. The Color Blocks Glass Award is available in three sizes: 7", 8.5" and 10".
2. Glass Art Sculpture Award - 9
This award isn't just a glass trophy; it's truly a work of art. At 10" tall and weighing 5.3 lbs, this award is just the right size to sit on a desk or office shelf.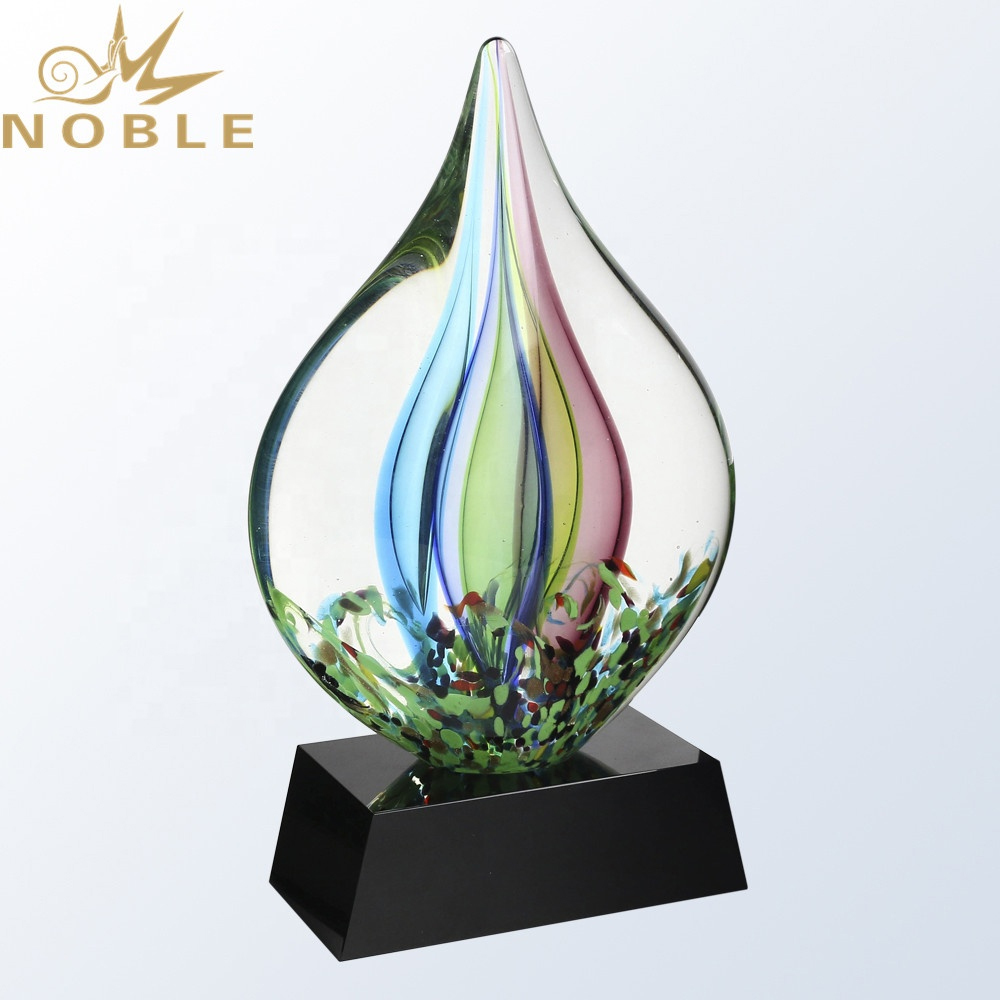 3. Glass Art Sculpture Award - 1
This hand blown glass sculpture is 14.5" tall with a hypnotically alluring swirl design and a gorgeous mixture of red, white and blue. It's a worthy award for just about any occasion, but the colors make it especially appropriate for anyone being recognized for patriotic work, such as law enforcement or other government or political roles.
4. Standing Smoked Glass Plaque
You've seen glass plaques before, not probably not quite like this. Available in a variety of sizes, our Standing Smoked Glass Plaque award is an excellent choice because its simple elegance makes it versatile, but it's also unique. The smoked color glass is 3/8" thick with beveled edges that make this glass plaque really pop! It comes with a silver metal post that screws into the award and allows it to stand upright on a desk, mantle or bookshelf. Your logo and personalized message can be laser engraved in a frosted white or printed in a wide variety of other colors.
5. Glass Art Sculpture Award - 12
This 11", 4.61 lbs glass art sculpture award features an even more unusual shape and combination of colors. Just a little bit taller yet lighter than the award above, it's just as well suited for any office space.