There are so many baseball trophies out there, sorting through them all could take a lot more time than you have to spend. Follow these three simple steps to help you quickly narrow down your options.
1. Start with a proven baseball trophy source.
The first step is knowing where to look. You don't want to spend time looking for a baseball trophy design you love and then discover that the company that sells it is questionable or that shipping will take months. You want to choose an experienced company to help ensure your order will be accurate, on time and the quality you expect.
The good news is, you're in the right place! Noble Awards Co.,ltd,a well-established crystal trophy manufacturer featuring great financial strength,good business reputation,bright prospect with principally engaged in research ,development and production of crystal awards.With the development of 20 years, Noble has evolved into a comprehensive enterprise,extending its business scope from crystal awards to plaques, medals,wood, acrylic and resin crafts.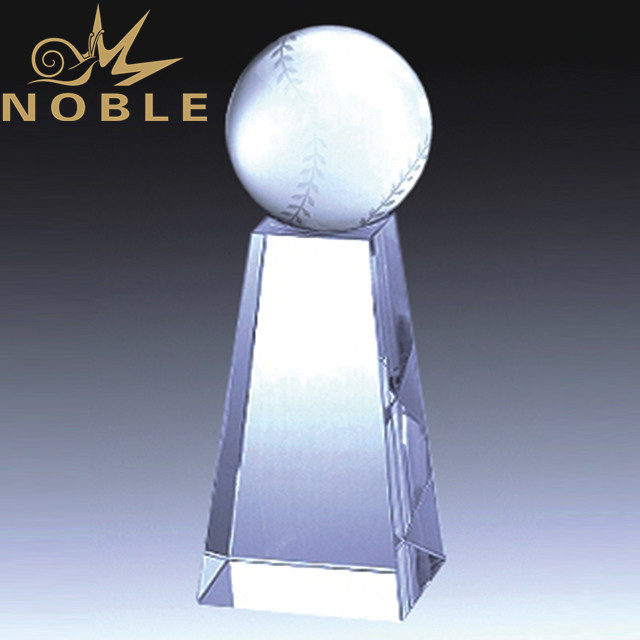 2. Think about your trophy engraving needs.
Perpetual Baseball Trophies
Next, you want to think about who you're browsing glass baseball trophies for. Do you need a single baseball trophy for an entire team? If so, do you want to engrave each player's name on the plaque?
If it's a baseball championship trophy that will rotate from team to team each season, will you want to engrave each winning team's name?
For engraving multiple names on the same trophy, even if they're added over time, you'll want to choose a perpetual baseball trophy.
Trophies With A Single Engraving Plate
If you're looking for baseball trophies for individual players, all you need is a standard glass trophy design with a single engraving plate. This gives you a lot more options.
3. Choose whether you prefer classic or unusual baseball trophies.
This part also depends on your audience. For high school, college or adult baseball leagues, you might want to lean toward a tried-and-true, basic style of baseball trophy. For high schools, column-style baseball trophies are especially popular. Consider this Ultra Wide Baseball Column Trophy for a nice, substantial look and feel in various size options.
For a sophisticated feel, you can choose from timeless classic baseball trophies, like baseball glove trophies or other simple designs. For example, you can't go wrong with the Baseball Glove Ball Holder Trophy or the World Champion Resin Baseball Trophy, or even the Baseball Optical Crystal Award.
If you want baseball trophies for little league, though, that can be a great chance to get creative. You can find a wide variety of shapes, colors and even movement. Intrigued? Check out these fun ideas for kids' baseball trophies.
The best baseball trophies for your team and occasion will always depend partly on your personal taste, but following these steps should make choosing a little easier. Whatever you choose, the Noble Awards team is here to help. Take a look around, and if you have any questions, just ask!