Showing your appreciation and recognition for your employees with custom acrylic awards brings you numerous benefits. The acrylic award has been considered as a very cost-effective and worthwhile honor item that is highly customizable specifically based on your organization or event.
The quality acrylic award is easily transformed into diverse shapes since acrylic is thermoplastic material. It is a truly worth product that is lightweight yet sturdy. It is shatter-resistant and can stand the test of time. Compared to the crystal awards, it is cheaper yet has good value for money.
Applications of Custom Acrylic Awards
As the name suggests, custom acrylic awards are perfect for corporate award presentations, salesperson award presentations, and many other business events. For example, the acrylic award is an excellent and elegant way to appreciate an employee for excellent service or meeting sales goals.
In addition, it's also a great item to honor those who have worked in and made contributions to the company.
Acrylic corporate awards, trophies are quite popular among companies large and small. It's time for your company to create a custom acrylic award that serves as a token of recognition to honor employees' hard work.
Precautions for Custom Acrylic Awards
1.Personalize Your Acrylic Award with Assistance from Awards Manufacturers
You can choose from a wide scope of sizes, colors, and shapes, and materials to customize your acrylic awards. Acrylic awards can be made of a material combination of metal, acrylic, wood, or crystal. They can be processed by engraving, embedding, or printing, according to the award design.
Besides, custom acrylic awards are often designed with cut angles so as to create lighting effects, or designed with metal accent pieces mirrored acrylic awards in various color combinations. You can inquire whether the manufacturer can offer you the ones that can be hung on wall or stand on the desktop or display case.
2.Information Manufacturers Need to Get Your Custom Awards Project Started
A: Your award design: Send your award design and logos or event information on texts or images to the manufacturer.
B: Your budget: Clearly tell your manufacturer your budget before deciding which materials to use, or anything that requires the manufacturer to control the production costs.
C: Your Quantity: Most custom acrylic awards projects have a minimum of 50 pieces. The final quantity can be discussed based on your design.
D: On hands date: Customized acrylic awards require 15 to 20 days production time based on the order quantities.
3.Things Need Attention for Corporate Custom Acrylic Awards:
A: All artwork and logos must be submitted in black and white.
B: The clearer your artwork is, the better your logo will appear.
C: Adding a color logo or full-color printing needs extra charge
D: The number of characters for a custom acrylic award depends on the size of the award.
E: No extra charge in engraving.
F: Cushion pads are available to protect the acrylic awards during shipping.
G: Make sure there is no spelling mistake in your design paper that will be sent to the manufacture.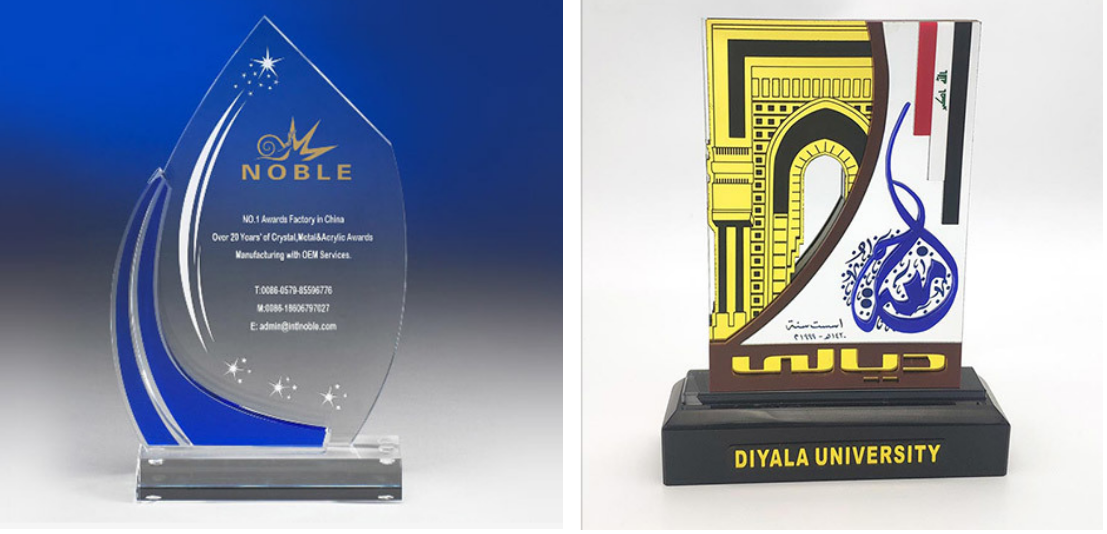 Parameters of Custom Acrylic Awards
1. Size: 4.9" wide x 10" height
2. Weight: 2.44 lbs (39 oz).
3. Material: Top grade acrylic
4. Type: freestanding
5. Applications: employee of the year awards, work anniversary awards, employee recognition for top achievers, etc.
6. Design: sitting on a rectangular base
7. Package: individually gift boxed
8. MOQ50pcs
Nobel Award - 8 Years In Custom-made Delicate Trophies & Medals
We are a well-established manufacturer that has engaged in research, development, and production of various awards trophies, such as acrylic awards, crystal awards, and diverse art glass trophies. The awards and trophies we offer have won sound market recognition both at home and abroad. Most of our the acrylic awards have undergone quality tests.
At Noble, flexible custom acrylic awards service is available to help you produce or even design unique acrylic awards. We are widely regarded as a reliable manufacturer and long-term stable partner with clients from the USA, the Middle East, Japan, South America, etc.
If you have any confuse and don't know how to identify whether the manufacturer is reliable, read the blog post on >>> How to Find a Qualified Award & Trophy Manufacturer. It might help you make the right decision.