Custom made lapel pins are all about personal preference. Lapel pins have already been widely used for diverse purposes. As a small, simple accessory, it gives your suit jacket and any other piece of clothing a more elegant and special look. Lapel pins not only serve as clothing ornaments, but also are valuable collections since some of them are delicately hand-crafted.
Small as they may be, lapel pins have the advantage of high customization flexibility and can be designed into almost any kind of shapes. By combining traditional and modern techniques, lapel pins manufacturers can be highly intricate and delicate pin designs. Below will explain some basic manufacturing processes for custom made lapel pins.
Creating the Design of Custom Made Lapel Pins
This is the very first step in creating any personalized lapel pin. Lapel pins can be designed in a manual way or by high-tech tools. As the lapel pin is usually small in size and has very limited surface area, the design needs to be simple without too many complicated details, because the molding or stamping process may make the details lose.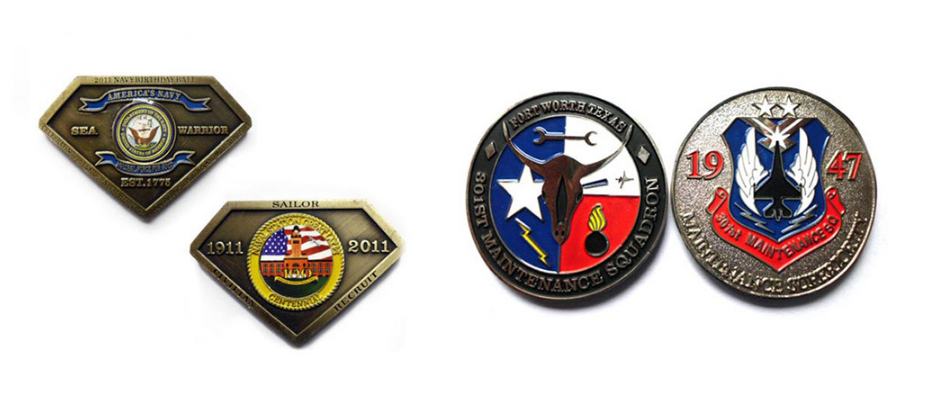 Applying Custom Made Lapel Pins Designs with Different Techniques
1.Molded Pins
If the lapel pins are created using casts or molds, first of all, the design needs to be struck onto a sheet of metal, usually magnesium. The sheet of metal is usually called the master and functions as the negative of the pin design. Curing of the lapel pin design template often takes an hour. Depending on the number of custom made lapel pins that need to be produced, several other master copies can be customized.
In the molding or casting process, the molten metal will be poured into the spin machine where the lapel pin design template has been placed. The spinning speed lasts about one minute with an average speed of 400 rpm, then the mold is removed from the machine and the metal liquid material will be dried for about 5 minutes before it becomes solid. Then the pins will be removed from the mold and washed under water, detergent, and abrasive stones so as to eliminate the dirt and smoothen rough edges. The purpose of washing is to ensure the surface is smooth enough for plating and painting that would follow.
2.Die-Struck Pins
Unlike molded custom made lapel pins, the die-struck technique does not require a mold. The die-struck pin is created on a metal block called a die. The metal sheet or die is usually 1mm to 2mm in thickness. Gold, silver, copper, nickel, or alloy of these four kinds of metal is the most common materials used for die-struck pins. The die will be struck twice or more times depending on the complexity of the pin designs. At last, the die-struck portions of the metal sheets where the designs will be stamped and cut to form each individual lapel pin.
3.Printed Pins
Making printed pins are somewhat more straightforward than producing molded and die-struck pins. After determining the final design of the pin, what you need to do is just to print the design onto a white background that is usually made of paper or plastic board. If the design is not so complicated, for example, it has fewer color gradations, the design can be printed directly onto the metal.
Delicate treatments of Custom Made Lapel Pins
1.Polishing and Plating
After the custom made lapel pins are removed from the mold or cut from the die-struck die, they will go through a round of polishing to remove any excess metal particles. Then, chemical or electrochemical plating is carried out to treat their surfaces, usually with usually copper, nickel, silver, or gold material.
After plating, the die-struck pins are usually sandblasted or texturized to give depth to the design to bring out finer details. If you want your custom made lapel pins to achieve a truly unique look, you can ask for dual plating. Dual plating can make your personalized lapel pin stand out, especially if it has a lot of text elements. Surface finishes can be chosen, like matte and lustrous finish.
2.Coloring and Embellishing
The enamel lapel pin is one of the most popular ones. As its name suggested, it's a lapel pin coated with enamel paints after plated. The enamel lapel pins are usually painted manually by craftsmen or automatically by machines.
Enamel lapel pins are divided into custom hard enamel pins and soft enamel pins. The biggest difference between hard and soft enamel pins is the finished texture. Custom hard enamel pins are flat and smooth, and soft ones have raised metal edges. Although both of them have bright colors, there are some special features are exclusive to soft enamel. Beyond that, you can also add embellishments on your custom made lapel pins, like synthetic gemstones and other small decorations.
3.Baking, Drying, and Coating
Custom hard enamel pins may need baking, while the soft ones don't. Usually, hard enamel pins are placed in a kiln under the temperatures up to 1600 degrees Fahrenheit. The baking process ensures the hard enamel pins to be hardened and more durable. Soft enamel pins simply need enough time to dry properly.
After the baking and drying process, some of the custom made lapel pins are required to be coated with epoxy to protect the surface from scratches or fading. The epoxy coating is just an option for you, not always needed.
Lots of customers have requirements for adding epoxy to their custom enamel pins. Why's that? The epoxy dome is actually a fantastic protective coating that protects the surface of the pins from fading or rust. Adding epoxy on the pins can protect the surface from stains, oxidization, and abrasion since epoxy is water-repellent and has excellent adhesion to the surface. This will help retain the original glistening and gloss of the custom made lapel pins for a long time.