Are you tired of the traditional trophies and plaques and looking for a suitable alternative for the next award-giving occasion? The art glass awards are worth mentioning in this regard as they can be provided as a great token of appreciation, thereby creating a memorable impact.
They are known to be an ideal gift choice for different occasions. They offer an elegant look and feel. In addition to this, you can customize engrave these materials, thereby providing a personalized touch to them. They have turned out to be a popular alternative to the well-renowned art glass awards.
Top reasons to choose glass awards
The elegant look, as well as the bunch of customization options, making them the most ideal choice for manufacturing the awards. They can be formed in a variety of shapes which include stars, pillars, and plaques, to name a few.
You can choose to provide these awards on different occasions. With these products, you can give recognition to the performance and dedication of the employees, working in your organization. Thus, you can opt for these products for motivating the employees, while they are showing great performance.
Hence, you can show the whole organization that their hard work, dedication, and efforts are valuable to them. As they have a positive ripple effect, they stand second to none in enhancing the motivation. Some of the events where you can give out these awards are company award functions, work anniversaries, after-sales achievement celebrations, holiday parties.
You can also provide them to the employees who are retiring, who have showcased tremendous performance beyond their job duties.
Show the token of appreciation with glass awards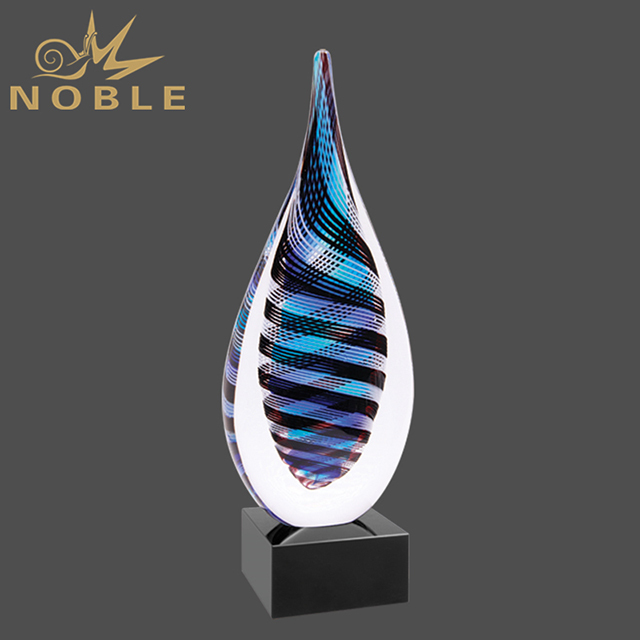 The art glass awards are gaining high popularity as the artistically inspired recognition trophies which are produced from glass mainly and then accented with the aid of stainless metals, marble, crystal, ebony wood, etc. You are sure to be amazed by the mind-blowing designs of these products.
As you start to implement the personalized glass awards in the recognition program, they can create excitement among the employees of your organization. In addition to this, they are successful in delivering a unique and strong message to the employees. They are created with creative engineering with the highest standards.
Award ceremonies are known to be a special and memorable day for the employees, working in your firm. They are used for conveying the highest level of regard to the recipient. You can set an everlasting impression on the awardees and the guests, arriving at the function by offering these awards.
Factors, to consider before choosing glass awards
The glass awards play an integral role in uniquely reflecting the brand or business. Here are some factors, you need to consider for choosing the glass rewards for the award functions:
You should ensure that the award manufacturer is providing customization options both in engraving and design
They should be proof free and you should be able to view the design before the production
It is recommended to choose the services of the award manufacturer which offer bulk pricing options and thus you can save a lot on the bulk orders.
You should make sure that the manufacturer is providing a 100% satisfaction guarantee.
Besides this, it is recommended to opt for a hand-blown sculpture award which comes with a plethora of shapes and colors, in a large glass top, as it helps in creating a unique spectacle.
Again, you should opt for an art glass award, which comes with a symbol, related to the recipient.
There is a wide array of glass award manufacturer in the market who makes the best combination of different materials and designs the product from scratch. They stand second to none in featuring any shape or color, you want in the awards. You can choose to get a free proof award which will provide satisfaction to you.
Do not opt for glass awards from the manufacturers who have limited options or do not provide a proper response to the questions. Refrain from choosing the services of the company, which do not provide any sort of satisfaction guarantee as you will end up wasting your money and time while doing so.
Reasons to opt for the services of Noble Awards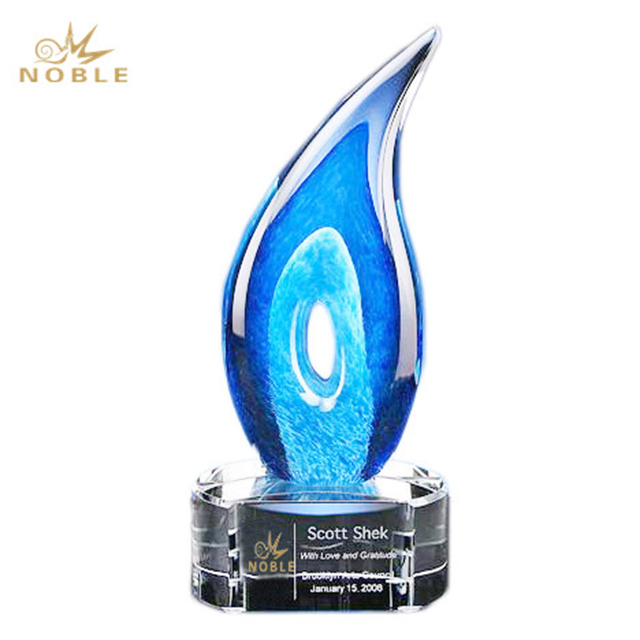 The market is filled with a wide array of art glass trophy manufacturers. Noble Awards is worth mentioning among them as they have a collection of different fascinating pieces of the awards. The awards, manufactured by them boast of dramatic streams of colors that enhance their elegance.
The products, manufactured by this service provider are unique as you will not find even two products which look alike exactly. They have a team of expert professionals who stand out of the ordinary in transforming your vision into reality. If you want a unique award product for the award functions, you can opt for the services of this provider without a second thought.
They have gained high prominence in offering a wonderful alternative to these awards. A bunch of business firms prefers to opt for the glass awards, manufactured by them during the corporate and employee recognition award function and ceremonies.
If you are searching for an ideal option for acknowledging the top performers in the firm as well as their outstanding achievement, reach out to Noble Awards. With an experience of several years in the industry, they stand second to none in offering the best quality of glass awards in the industry.
They are gaining high popularity as the best trophy suppliers who offer a special and unique glass trophy that depicts your style statement. They are known to have a faster turnaround time and thus they are capable of accommodating any last minute order.
One of the top reasons why end-users prefer to opt for the glass awards of this brand is because they involve a reduced cut off from the pocket and thus, the employees or the awardees can treasure them for your whole life.
If you are planning to purchase glass awards for the next award ceremony at your organization, the above-mentioned write-up will help you in making an informed purchase decision. Motivate the employees and provide a boost to their productivity and performance by choosing the premium quality of glass awards.