The gold has long been symbolizing a noble atmosphere, no matter that the gold was utilized as a general currency tool in ancient times or as a high-end, luxury present nowadays. Usually, the medal can be made of various materials, most commonly gold and silver. The collection value of medal is different based on materials.
Since gold looks more high-end than silver, broadly speaking, companies, schools, institutions, and banks would like to create custom gold medals to commemorate the yearly gathering, anniversary, promotions or other large events. Also, many companies would like to customize the gold commemorative medals from a medallion manufacturer as gifts to customers, employees, etc. So, what exactly the benefits of custom gold medals will bring?
Custom Gold Medals Have Collection Value
Choosing customized gold commemorative medals as gifts not only highlights the distinctiveness of any company or organization but also highlights the meaning of high-end, value-added commemorative gifts of enterprises. The medal bears the culture, philosophy, brand, spirit of corporate or organization. Additionally, it embodies the carrier of a new corporate culture. On top of that, it's indeed a souvenir itself, so it has a commemorative value.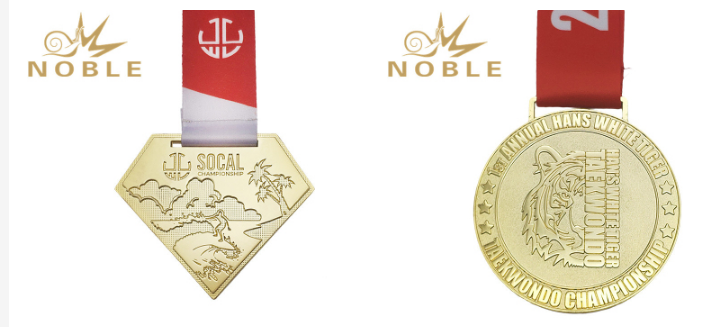 Custom Gold Medals Enhance Corporate's Brand Awareness
Customization means the choice of individuality and uniqueness. Any custom-made product normally identifies a particular brand or company. Custom gold medals are based on careful and unique designs and they can generate curiosity among the targeted clientele and draw the attention of people easily. Just due to the uniqueness, custom medals can reflect the brand value and messages. As personalized medals can be printed or carved with the company's logo and graphics from a medallion manufacturer, custom medals contribute to promoting corporate's image and enhance brand awareness, by means of gifts given to employees or consumers, exhibitions, and promotion activity. Everyone likes unique gifts thus it's a good idea to have a custom gold medal that demonstrates personality or badge of identity while at the same time does branding.
On top of that, the custom gold medals are useful for the company's identification. If a company's employees take part in the conference or event of any organization, these gold medals become all the more essential. These medals help to establish the company's presence further. Since the gold itself can be collected for a long time, custom gold medals enable the brand communication to be more lasting.
Custom Gold Medals Affect Customer Recognition
Any brand has a customer base that is developed over time, and how successful the brand is associated with the products it offers and other factors. Customers can always point out and identify the products by brand, and using custom gold medals can enhance the brand name by way of recognition and ownership. Custom medals benefit a brand enormously when it comes to sales increase and growing a customer base. Of course, gold medals are also widely used in other industries except for corporation promotion, such as sports and education fields. No matter which field the gold medal is applied to, the individual's sense of belonging and recognition will increase.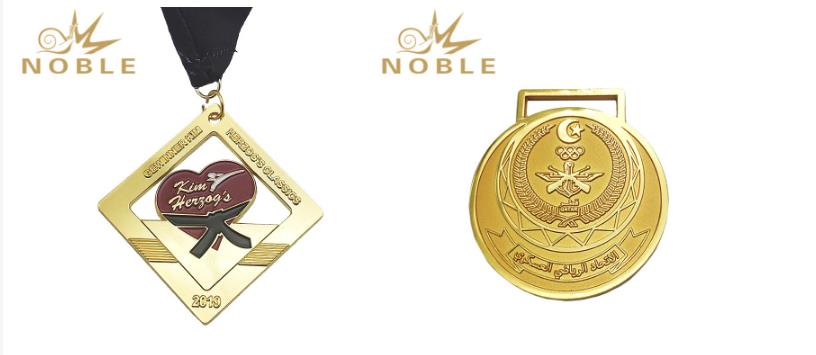 Benefits of Working with a Medallion Manufacturer
In general, most companies will choose the qualified medallion manufacturer to make their medals. The cost of custom-made gold medals is often composed of the cost of gold material itself and other costs, such as processing fees, packaging fees, and labor costs. Compared to the retailers, directly working with a medal manufacturer saves costs in operation, management, and advertising. If companies want to buy the ready-made medals, the price will not be so favorable, as there may be layers of agency fees in the middle.
Besides, working with a medallion manufacturer directly can easily distinguish the authenticity of the gold medals. There is increasing popularity of collecting gold coins in recent years, and the market becomes prosperous yet chaotic. There are quite a number of illegal traders to take advantage of making the fake or inferior gold medals to deceive consumers. Most manufacturers are not likely to lift stones and smash their feet, so choosing the manufacturer to customize the gold medals has a quality guarantee. Unlike retailers, quality tests and after-sales services offered by the medallion manufacturer will additionally offer further guarantee of quality. Whether people are considering a custom-designed medal or another award, they can count on the experienced manufacturers or factories to guide them to makes the most distinctive gold medals.
Nowadays, custom gold medals are used by many people and organizations, not for the sake of fashion but to determine the identity. It's upon people to choose the required width, size, material, and design of the medals for their business or other purposes. With these great uses of gold medals, many famous online medallion companies are offering different kinds of custom medals to all people that can meet their demands.