Acrylic awards are considered as the most preferred award types available in the market. Above all, the acrylic material is thermoplastic known as "polymethylmethacrylate" or PMMA. It is one of the most optically clear materials available. Acrylic not only has high-end appeal, but also is highly resistant to weather elements and many chemicals. If you haven't yet explored the world of acrylic awards, perhaps it's time you start.
Basic Features of Acrylic Awards
Custom acrylic award can be a quick and cost-effective method to produce creative, new, and unique awards designed specifically for your organization or event. Acrylic award is one of the most flexible in terms of incorporating materials, shapes, colors, and other decorative elements.
Regarding the acrylic trophy design, because acrylic is thermoplastic, it can be designed into nearly any shape, which makes it highly flexible in meeting clients' requirements for shapes. The outer surfaces of the acrylic award can be cut to create a unique shape, or spaces can be cut inside the award to customize the form factor.
Beyond that, acrylic awards can be customized into transparent or opaque. Translucent or transparent acrylic award trophy can be absolutely clear, or in a colored tint. Transparent awards are most preferred in digital printing on the surface of the award or in the embedding of certain objects in the award. Colored opaque awards are often single- or multicolored.
Custom Options or Techniques for Acrylic Awards
1.Direct Digital Printing
Direct digital printing enables acrylic awards manufacturer to print a full-color layout directly over an acrylic award. This technique is most ideal for logos that must display color or the text that needs a color contrast to stands out. Direct digital printing can be carried out on both the back surface and the front-facing side of the translucent award, in such a way, the printed content can be viewed clearly through the acrylic awards. This process is via printers which apply the images directly onto the acrylic. The process to make full color printed acrylic awards utilizes printers that have the resolution print capability of 1200 x 2400 dots per inch. The digital printing is able to produce the most intricate images yielding the most stunning photographic details on the awards.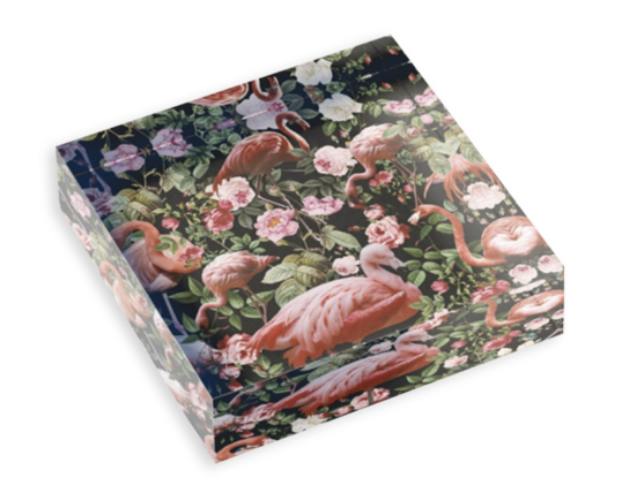 2.Embedding
Embedment is a kind of technique that makes the specific 3D objects or images be embedded inside the acrylic awards, making the embedded contents appear as they are "floating" inside the award. Most custom awards use specific embed objects and liquids to be unique and personalized. For example, the acrylic award can be embedded with coins, oil drops, badges and more. Embedded acrylic awards are unique in that not only can you personalize them with your event details and information, but also the awards can be embedded with a physical item that serves as a great way to emphasize the communication purpose of the award.
Embedding actual objects inside the award leaves no obvious markings onto the surface. The acrylic award will look utterly smooth, sleek, and eye-appealing.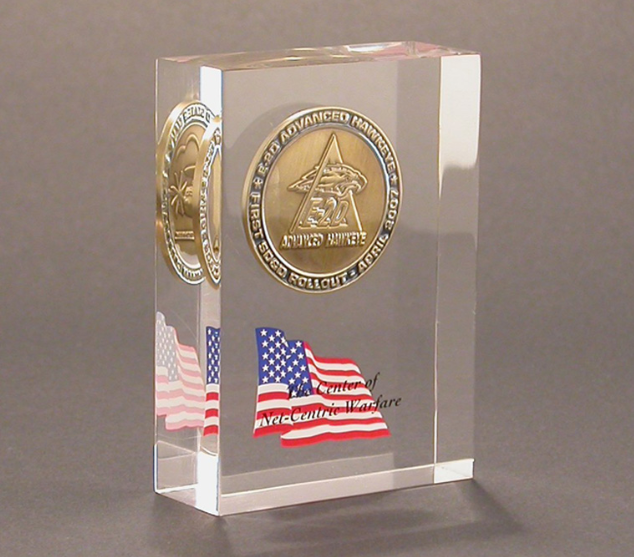 3.Engraving
Engraving technique is divided into laser engraving and sand etching. Laser engraving needs the use of a laser to mark or etch the surface of an award. Of course, laser engraving is not only applied to acrylic awards, but also used on glass, plastics, metal, stone, and other natural materials. Laser engraving can be completed quickly and leads to a clean, crisp, and permanent mark on the award that is easy to see. If you touch on the custom laser awards, it's not likely for you to feel the depth of the etching. Engraving technique is suitable for etching of photos, graphics, and logos as this technique is highly precise and can engrave more than 1000 dots per inch.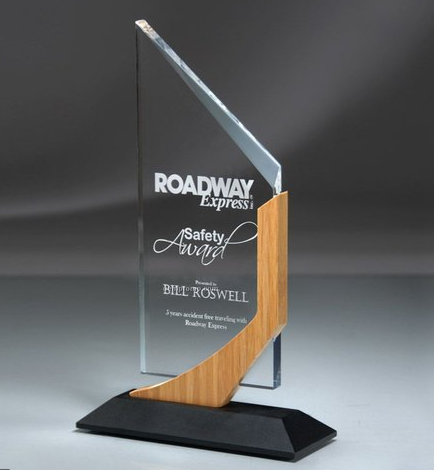 Sand etching, also known as sandblasting, requires a mask (stencil) to customize your logos or patterns. Sand etching is also widely used in marble, metal, and wood materials. The technique uses the compressed air and forces the sand to flow through the lines and blasts the open area of the stencil. This process will erode or roughen the award surface, resulting in a frosted look that has a depth to the award that is easy to touch and feel. Etching logos, images, or texts on the surface of the acrylic awards is possible, but the etching process is very likely to cause damage like cutting through a piece of acrylic if the process is not done correctly.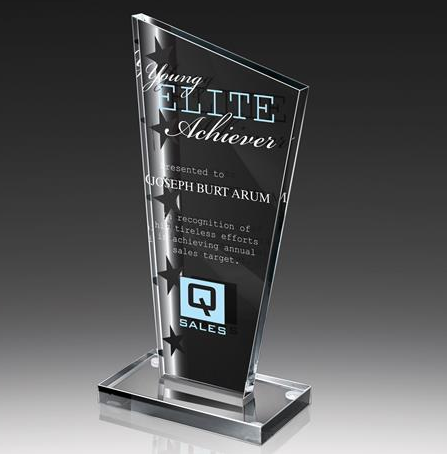 From the above two pictures, it's obvious that custom laser awards come out dull and nowhere near as sharp, while sand etching produces exceptionally sharp, crisp and bright engraving quality. Additionally, the higher quality of the award material, the poorer job laser does of etching, while sand etching ensures excellent results regardless of material quality.
Whether you are awarding your employees for their achievements in work or presenting years of service or recognition awards to your loyal employees, you can choose a reliable acrylic awards manufacturer to custom awards that can represent your company. Custom awards made of acrylic brings you numerous benefits, read our blog post on >>> Benefits of Custom Acrylic Trophies and Awards for your reference.