The metal trophy is one of the award types that customers prefer. Metal trophies are manufactured by using high-precision machining or water jet cutting machines to extract custom images and shapes from raw metal materials. Custom metal trophies come with various benefits. Metal trophies are great for personalization, with high-quality text & logo engraving on the body or the base, multiple colors to choose from to perfectly meet all your trophy presentation needs.
Simple metal trophy design can be easily finished as it does not require a mold, which is suitable for those with a strict budget, while the complex one can be made to deliver truly stunning visual results. Metal materials allow for maximum flexibility that encourages diverse shapes, sizes, finishes, and colors, which enables you to customized specific trophies.
Size Customizability of Metal Trophy
Metal trophies can be customized into nearly any size, ranging from a small freestanding one to a large one that can be displayed in a lobby or mounted on the wall. As there are no molds involved in the fabrication process, the metal trophy can be resized from time to time, which is a relatively painless task and helps save costs.
Appearance Customizability of Metal Trophy
Metal trophies often come with an industrial or modern look. This is because of the fabrication process in which the metal trophy is fabricated with a sharper-edged or "machined" look. Laser-cut metal awards and trophies are also popular nowadays. In addition to customizing ready-made products, laser cut is often used to cut and create one-of-a-kind metal trophies from scratch. Besides, you'll be amazed at the sculptured style of custom 3d trophies. Made in a variety of materials, including resin, bronze, and aluminum, 3D machined trophies are detailed and perfectly formed.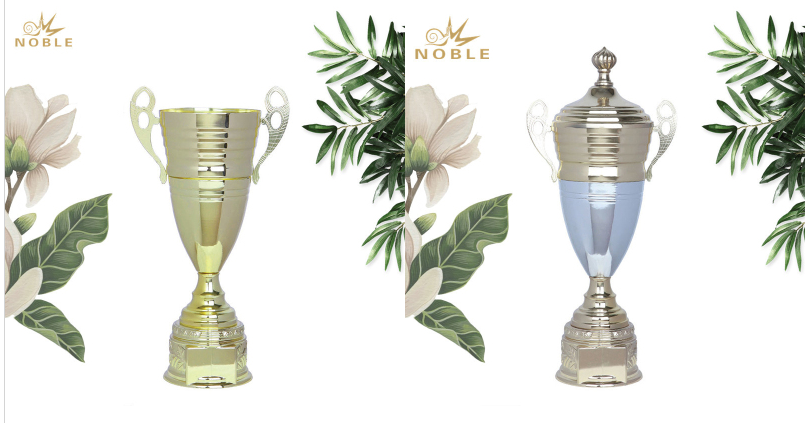 Colors or Finishes for Metal Trophy
Metal trophies can be designed in an infinite variety of colors. A number of processes can add colors to your metal trophies, such as anodizing, powder-coating, painting, electroplating, and others. Outlined below are a few of the most common finishes used in the metal trophy.
1.Anodizing
Anodizing is still a fast and easy means to bring a bit of color to custom metal trophies. Anodizing is an electrochemical process that transforms the metallic surface to a layer of protective, decorative, and durable finish. The finish is a kind of anodic oxide that is corrosion resistant. High polished-metal can generate a glistening appearance, whereas a brushed metal will probably create a duller, flatter finish. Anodizing is considered as a fantastic approach to add color to the trophy yet still keeping the raw material (metal grain) intact. This workmanship is better used when a large area of the metal trophy is employed with color.
Even though anodizing is one of the cheapest alternatives, it's very limited within the number of colors, making some brand color schemes hard to match.
2.Powder-coating
Powder coating is actually a kind of coating that's employed as a free-flowing powder, not a liquid-like paint. Powder coating makes the color easier be applied to the areas traditional painting cannot reach. By far, powder-coating is considered as the most durable surface treating type and is best for covering a large area with one color. This surface treatment can endure various elements both indoor and outdoor. Powder coating is similar to the anodizing that has only a few palettes to choose from, which makes it difficult to match the color requirements of some custom trophies projects. Literally, however, powder-coating literally has more colors than anodizing to choose from.
3.Painting
Painting is the most versatile and flexible of all the finishing options. Painting can create, mix, and match nearly any color or finish that customers require. Painting comes with a wide range of types, including epoxy resins, less expensive acrylic paint, enamel based paint, etc. Painting can also be processed into high-gloss clear finishes, colored "candy apple" finishes, and matte flat finishes. The options for metal trophy painting are nearly endless.
4.Metal Plating
Metal plating, also electroplating, is the process of plating a thin layer of other metals or alloys on the surface of certain metals by using the principle of electrolysis. Metal plating features a very limited palette. Palette such as industry-standard gold, nickel, zinc, silver, or copper is often adopted in custom metal trophies. Of course, features differ based on the type of materials plated on the trophy. For example, nickel helps improve corrosion and abrasion resistance, gold is the most stable finish and more resistant to oxidation. Generally speaking, metal plating is a low-cost processing approach with excellent effect. It helps enhance the corrosion resistance of the metal surface and also offers a high gloss trophy surface.
5.Raw Metal Finishing
This technique aims to retain the metal. Instead, you can choose to polish the metal surface so as to give the metal trophy a mirror-like appearance, or bead blast it to dull the surface. Other custom grind finishes such as a brushed finish, scored finish are available.