In the case of you'd like to move beyond traditional awards &trophies and plaques for your award-giving occasions, art glass awards & trophies are stunning tokens of appreciation that make an unforgettable effect. These noble trophies made of art glass serve as excellent gifts for special occasions. They look and feel elegant, especially those engraved with personalized features. Below is the guide explaining why art glass award are special and what you should look for when you' going to purchase them.
Reasons to Give Art Glass Awards & Trophies
Art glass awards & trophies are perfect for a variety of occasions. Every time there was an award occasion or event that is embraced with stage and lighting, the art glass award is a perfect choice simply because it emits sparkle and attention-grabbing glitter from the stage.
There are numerous occasions that are amazing for giving out these art glass noble trophies, including retirement ceremony, work anniversary, achievements in work, scholastic achievement, wedding birthday, or other special occasions. Then what are the benefits of art glass awards? Giving an art glass award or trophy in a business or organizational setting can encourage employees to keep motivated at a high level and enhance their belonging to the company. Most importantly, giving the award can show that you appreciate their effort and hard work, which promotes employees to work harder. Generally speaking, presenting the art glass awards or trophies can generate a positive ripple effect that dramatically increases motivation throughout an organization. A special personalized art glass award and trophy will be treasured the most that recipients will love to keep for years to come. Most of the recipients would like to display it on their desk or display case in the living room.
What to Look For When Shopping Art Glass Awards & Trophies
It should be understood that not every awards manufacturer produces high-quality awards and trophies. When you're shopping for these art glass noble trophies, pay attention to:
-customization options (both in shape design and in words& pattern engraving designs)
-a professional design team that will work with you to turn your vision into reality
-bulk pricing discount so you can save on large orders
-100% satisfaction warranty
-free proof so you can view the design before it's produced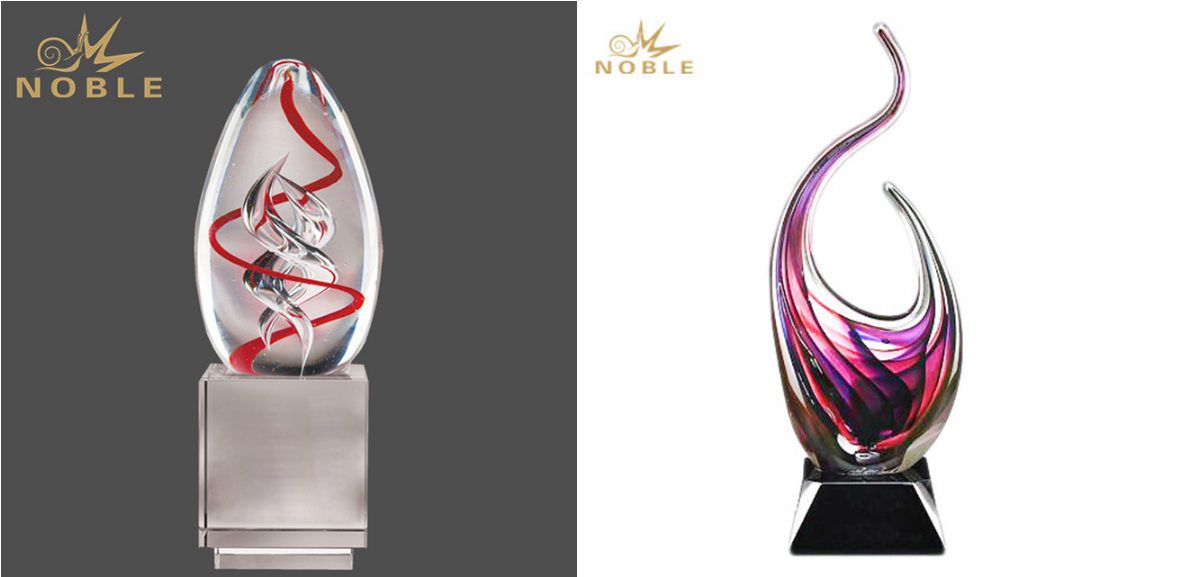 Below are more tips to think about.
1.Aesthetics
First, consider an artistic shape for the base. Make the glass award to be designed with a beautiful base that features a dazzling sculptural shape, like the Barceló Award. Second, it's essential to consider art within art. A hand-blown sculpture art glass award with a variety of colors and shapes within the larger glass top is one that creates an excellent spectacle. A piece of art inspires happiness and can bring a sense of peace and harmony to the recipients.
2.Iconic features
Design your awards with shapes representing your brand, or find art glass awards & trophies that have a symbol that relates to the recipient. A basketball award is often designed or engraved with some symbols related to basketball, such as a basketball pattern or basketball player. Your noble trophies should be iconic.
3.Some self-features of the awards & trophies
First of all, the weight has a surprising effect on the perceived quality of an award. It's very disappointing to pick up a beautiful glass award but feel it barely weighs anything. A heavy glass award or trophy means a lot, showing the real gravity of the accomplishment of the recipients. Second, consider the materials. Do you know the resin awards & trophies have gained increasing popularity? Here resin awards or trophies mean the awards with a resin base, and they are more durable than the plastic ones. Third, consider the age of the recipients. It's better to buy awards and trophies that cater to that age. If your recipients are kids, then choose the art glass awards & trophies with fun designs. Opt for modern and fashion designed ones for young sportsmen.
However, there may be some misunderstandings among art glass, acrylic, and crystal awards and trophies. They seem very alike from appearance, yet there are differences among them. Some people may prefer acrylic than glass awards, and you can see the blog post on>>> Key Differences among Acrylic, Crystal and Art Glass Awards & Trophies for more information before you decide which type to buy.
To sum up, if you work with a professional award manufacturer, everything you could want in terms of noble trophies is possible and you'll save much energy. You'll be able to combine materials, design your specific award shape from scratch, decide the engraved content you want, colors you'd like and so much more. Try to avoid ordering or buying the art glass awards directly from the retailers as they usually have limited product types and higher prices. It's very likely that you'd waste your time and money on awards that you're not satisfied with.