You want it to be special,when you present someone with a crystal award plaque. While there's absolutely nothing wrong with traditional plaques, you may want to add something unique to yours. Noble Awards can help you create one-of-a-kind glass awards engraved that you'll be proud to give and anyone would be proud to receive.
Top creative plaque award ideas include:
Unusual shapes
Non-traditional materials
Photos
Three-dimensional features
Plaque/trophy combinations
Clever quotes
Outdoor-friendly materials
Curved desktop plaques
Your own logo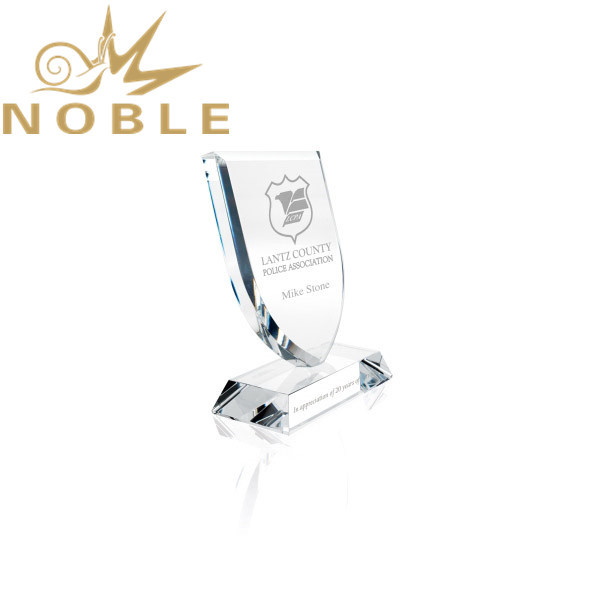 Pick a Fun Shape for Your Plaque
You don't have to stick with the basic rectangle. Simply a notched corner plaque may feel a little fancier.
Or you could take it further. Shield-shaped plaques like this one can be a great choice for someone in law enforcement, for example. Or scroll-shaped plaques like this one can be perfect for awards related to writing, academic, educational, legal or other professional accomplishments.
Honoring a baseball achievement? Consider one of our home plate plaques.
Even if you do go the traditional rectangle route, consider a landscape layout rather than the more expected portrait layout.
Make it 3D
Want it to "pop"? How about literally? Noble Awards & Apparel offers a variety of plaques with three-dimensional features.
A star plaque, for example, is great for a wide variety of occasions. An eagle plaque is perfect for recognizing patriotism. Key plaques can be a beautiful and cherished addition to a building's decor. And these are just a few of the 3D plaque options available.
Make it Leather
Yep, that's right. Leather plaques. A leather plaque will certainly stand out from traditional plaques while still looking classy and professional.
If you don't want to be that unconventional, you still don't have to stick with wood and metal. Consider marble plaques or this unique stone resin plaque. You can also choose AcrylaStone plaques and more. Don't limit yourself. Explore all your options.
Add Your Own Photo
A photograph can make a plaque that much more personal and meaningful. This is a particularly great idea for sports teams and other group activities. You can incorporate your picture in a rather traditional photo plaque style or you could go with something a little more unique. You could even choose a curved glass plaque with a built-in frame and insert your own photo after receiving it.
Combine a plaque and a trophy
Why choose? You can combine a plaque and a trophy with our Perpetual Cup Base, also available in brown. Choose between gold or silver plates for either cup base option, and pair it with one of our many trophies.
These types of trophy bases are perfect for trophies that may change hands or recognize different individuals or teams from year to year. But that's not their only use.
Consider one of these trophy base plaques to show your determination and optimism that this achievement is just the first of many like it. Then add a plate for each future accomplishment as it comes.
Noble Awards Co.,ltd,a well-established trophy manufacturers featuring great financial strength,good business reputation,bright prospect with principally engaged in research ,development and production of crystal awards.With the development of 20 years, Noble has evolved into a comprehensive enterprise,extending its business scope from crystal awards to plaques, medals,wood, acrylic and resin crafts.
Noble's work is honorable entitled to a number of A-grade quality certificates in contracts of trading,manufacturing,etc.With well-equipped facilities and strong technique force, our products are widely recognized and trusted by clients throughout the world such as Presidents, heads of state, CEOs of major corporations, top sports legends and entertainment celebrities To USA,EUROP, MIDDLE EAST, JAPAN,SOUTH KOREA, OTHER COUNTIRES IN ASIA, SOUTH AMERICA&AFRICA.