Custom made medalsare usually classified into academic medals, sports medals, corporate medals, holiday/seasonal medals, or other personal achievement medals. A custom medal is an ultimate reward for every achievement. Medals play an important role in motivating and encouraging people no matter in the study, work, or other fields, especially the highly customized one with unique information or even the honoree's name. Usually, a medal comes with a loop at the top for hanging on a ribbon, decorative chain or key chain.
Custom made medals have a high collection value as they are indeed souvenirs themselves. Nowadays, custom medals are used by many people and organizations, not for the sake of fashion but to determine the identity. Below are some basic applications of medals.
Applications of Custom Made Medals
Custom medals are now widely used by businesses, sporting events, recognition groups, etc. Every country in the world adopted the use of medals as a means of recognition and achievement.
Firstly, many corporates will customize their unique medals to honor their employees who have made contributions. In this case, a custom made medal not only gives acknowledgment to individuals for efforts done and achieved the goal but also motivates other employees at the same time. Besides, a custom medal with respective brand information on it helps encourage positive brand publicity.
Secondly, for sports fields, medals will be customized with special designs based on various sport events. The custom made medals will significantly encourage athletes to strive harder and go for greater success, just like the Olympic Games athletes striving for international medals. Broadly speaking, custom medals provide motivation for an individual in competition and increase confidence and morale.
Precautions of Custom Made Medals
1.Client artwork, ideas, and budget
Materials, finish, process technique, and design will be determined based on customer's artwork or rough sketch, and budget.
2. Method of manufacturing
There are two kinds of methods to make custom medals. The first one is die-casting from a mold and the other is die-struck.
Die casting is most suitable for medallion designs that have a high level of detail. It is a process of having porous metal poured into the recessed areas of the die. Die struck is most suitable for medal designs that have a lot of colors or a higher quality metal is desired.
Die struck means striking the metal and make the design to be pressed into the metal mold. If the designs of custom made medals feature bright vibrant colors, die struck technique is more preferred.
2.Medal designs
There are mainly two dimensional and three-dimensional design approaches. Since 3D design requires modeling and sculpturing of multiple levels, while 2D design refers to just two levels of modeling, 3D design charges more.
3.Dimensions and thickness
Standard sizes of custom made medals usually range from 1-3 inches (2.5cm-7cm), and standard thickness is 1/8 inch (0.3cm). Of course, size and thickness are totally customizable.
4.Painting and finish options
Standard finishes for most custom made medals are hand buffed antique brass, pewter, or bronze. Electroplating gold, silver or bronze is also available. Further finishes include bright polishing, sandblasting and a matte finish. Costs differ based on various surface treatments.
Parameters of Custom Made Medals
1. Size: 2.5" diameter,
2. Thickness: 3mm
3. Material: zinc alloy
4. Process: die casting
5. Shape: custom, 2D or 3D
6. Plating: brass, antique bronze, nickel, copper, gold, silver, etc.
7. MOQ: 100pcs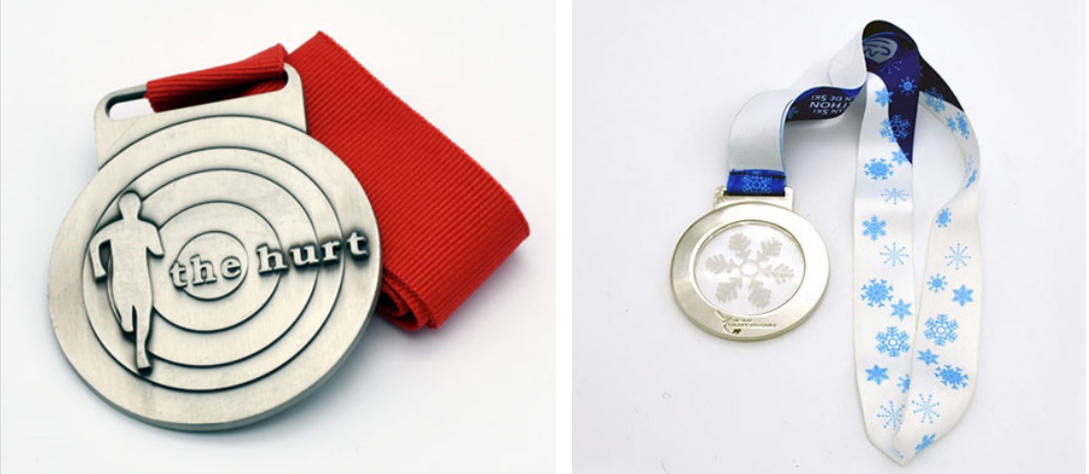 Noble Award - Offer the Most Delicately Crafted Medals
At Noble Award Co., Ltd, custom made medals services are available to help you design and manufacture unique medals for any event or competition. The custom medal service in Noble allows you to design exclusive bespoke medals embossed with your logo or event information on them.
We are considered as a leading medals manufacturer and supplier. We offer free pattern engraving, professional color printing, 3D laser process, and hard or soft enamel painting services of custom medals. We have successfully customized medals with high-quality personalized designs that perfectly meet clients' needs and get recognition by clients from the USA, the Middle East, Japan, South America, etc.