Commemorative plaques, or simply plaques, are used to commemorate a person, an event, or other important things. Many modern plaques often bear text or images, or both.
Plaques come in a diverse range of materials, designs, and finishes for both practical and personal uses. It's not hard to notice there are many commemorative plaques for buildings or for special significance to the person who has passed away. Therefore, a plaque should be eye-catching enough so that people can notice it.
Different Materials Used in Commemorative Plaques and Features
Since location is always important for commemorative plaques, it's important for you to know whether the types of materials used in the plaque can stand up to the surrounding elements. The materials make a big influence on the overall quality of the plaque.
1.Bronze commemorative plaques
Bronze has been a favorite choice for memorial plaques for a long time. On a more practical note, bronze has remained popular for such a long time because of its high hardness and low maintenance. Extreme winter days cannot cause damage to the bronze plaques, and that's the reason why there are so many bronze plaques are placed on parks or in other public areas. Beyond that, a bronze plaque is easy to maintain and keep clean. Cast bronze, considered as the "Rolls Royce" of plaques, is one of the most suitable plaques for outdoors and definitely suitable indoor.
2.Brass commemorative plaques
The brass plaque is made of a wide range of alloys that produce different colors and shades. The brass plaque looks very similar to bronze ones from its appearance. Brass plaques can be used both indoor and outdoor (dependent on the quality of brass used), and they can be engraved and painted with any colors.
Custom outdoor plaques are all built to withstand various weather elements and other elements such as abrasion, chemicals, and scratches. The only disadvantage of a brass commemorative plaques is that it may tarnish quite badly if placed outside, which also means it needs more maintenance. For this reason, it is recommended that the brass plaque be placed inside rather than outside as it's vulnerable to weather elements, wear and tear, scratches, and so forth. If the brass plaque is used outside for a long time, the paint on its surface will eventually fade away. Although most custom outdoor plaques including the brass ones can be re-polished to achieve a sleek glossy surface, they require regular maintenance to retain their shiny finish.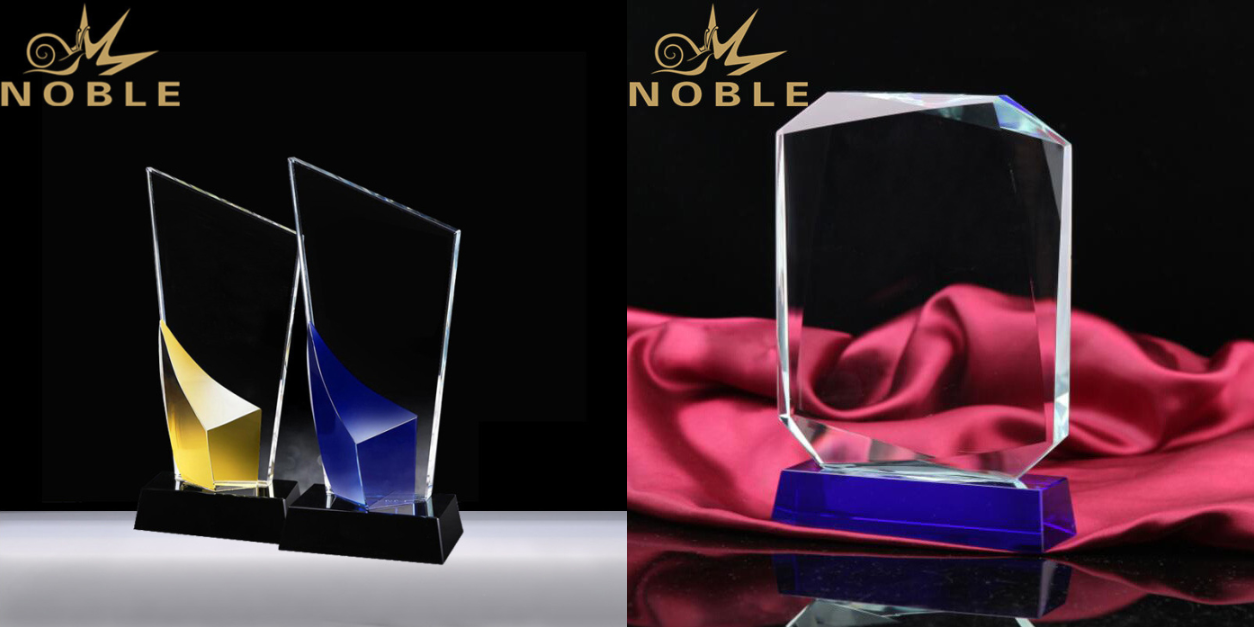 3.Stainless steel plaques
Stainless steel plaque is becoming a popular choice for commemorative purposes. Polished and engraved from top quality steel material, the plaque is built to withstand all but the harshest conditions. Stainless steel commemorative plaques are strong enough to defy even salt water and other chemicals, making it most ideal for outdoor uses. The steel plaque can be reverse engraved and painted any color to meet your specific requirements.
4.Glass commemorative plaques
Glass plaques are most suitable to be used indoors. There are a number of designs available, including vinyl lettering on the back or front side of the glass, sandblasting treatment, painting, or engraving of text or images. Any color to the background of the glass is required, and the glass plaques can be printed or created using an Acrylic Composite Material (ACM).
5.Wooden plaques
Custom wood plaques provide a traditional appeal, and often, the wood that is used is of a high-quality or is highly sought-after. The natural patterns in the wood grain provide a captivating quality to the plaque and timeless elegance. The warmth inherent in the wood helps create a welcoming and relaxing space. To protect the wooden commemorative plaques from going moldy caused by moisture and rain, it's better to be placed them indoors.
6.Granite plaques
Granite plaque is a more contemporary alternative to a bronze plaque. It has a number of attributes similar to bronze, for example, it's durable, able to endure harsh climate conditions and easy to maintain. You're not restricted by grey and white granite, and there are many colors of granite you can select from.
There is no limitation when it comes to selecting the materials for good commemorative plaques. It can be made from metal, wood, glass or plastic depending on purposes for the plaque. Most people would like to add some special effects to the plaque so as to enhance its uniqueness and personalization. This will give a true impression of quality and craftsmanship, making the occasion memorable for the recipient.
Considerations When Choosing Designs of Commemorative Plaques
Below are some important tips for you to make the right design decision when customizing a plaque.
1.Fonts. If the plaque is used for formal occasions, such as memorizing the passed away, the fonts on the plaque should be formal instead of casual style.
2.Readable. Decide the size of the text carefully, especially if the plaque will be displayed in a high position that is far from public access. Commemorative wall plaques hung high are often engraved or printed with clear words of large size.
3. Personal touches. Add some special motifs. Commemorative plaque with photo or engraved words can capture the personality of whom or what you want to remember.